WAVR oder Die Suche nach dem großen Waldrauschen
WAVR oder die Suche nach dem großen Waldrauschen
EIN BEITRAG VON TYPISCH.LU
Keiner hätte damals, im Jahre 2018, daran geglaubt, dass wir Ludwigshafener:innen beobachtet werden würden. Von den südlichen Rändern unserer Stadt, dort wo sich Hase und Fuchs gute Nacht sagen, klang erst ein leises und dann immer lauter werdendes Hämmern an unsere Ohren. Und so wie wir nicht ahnen konnten, was sich dort hinter den Bäumen südlich von Rheingönheim in Bewegung setzte, lauschten wir erst ein wenig stirnrunzelnd, dann doch immer neugieriger werdend, den uns so unbekannten Klängen aus einer fremden Welt. 
So geschah es, dass sich diese Wesen, welche unsere Ohren spitzen ließen zu uns kamen, um ihre geheimnisvollen Pläne gemeinsam mit uns gemeinsam umzusetzen.
Es ist der 16.07.2022:
Seit vier Jahren tönt ein "Waldrauschen" durch unsere Stadt. Das was scheinbar so wenig in unsere Beton-Architektur zu passen scheint, wirkt auf den ersten Blick ein wenig fremd. Tauschen wir jedoch das Wort "Blick" gegen das Wort "Ton", so merken wir schnell, dass es dann hoch hierher gehört. Genau heute und jetzt.
Seit geraumer Zeit hatten wir es nicht geschafft, den Experimenten der Musiker und Visualisten um das Team "Waldrauschen" ein wenig Aufmerksamkeit zu widmen. Logisch, Ausreden gibt es immer. Mal ist es die unpassende Zeit, dann wieder die nicht perfekte Location (für uns kann diese nur in LU sein). Dann gibt es den inneren Schweinehund, der irgendwie gerade was Anderes vor hat. Oder in China ist mal wieder ein Sack Reis umgefallen, wodurch die Änderung der Rotationsgeschwindigkeit der Erde einen geplanten Besuch bei den Waldrauschern dann doch wieder in der Assikneipe (liebevoll genannt) am Eck enden ließ. Aber gut. Der Vorsatz war da, aber jetzt sind wir hier.
An diesem warmen Sommertag herrscht wildes Leben auf der Bismarckstraße. Die Türen (eigentlich ist es nur eine) der innerstädtischen Experimentierwerkstatt des Nukleus in der Bismarckstraße 75 sind geöffnet. Unbekannte elektronische Klänge dringen auf die Fussgängerzone unserer Stadt.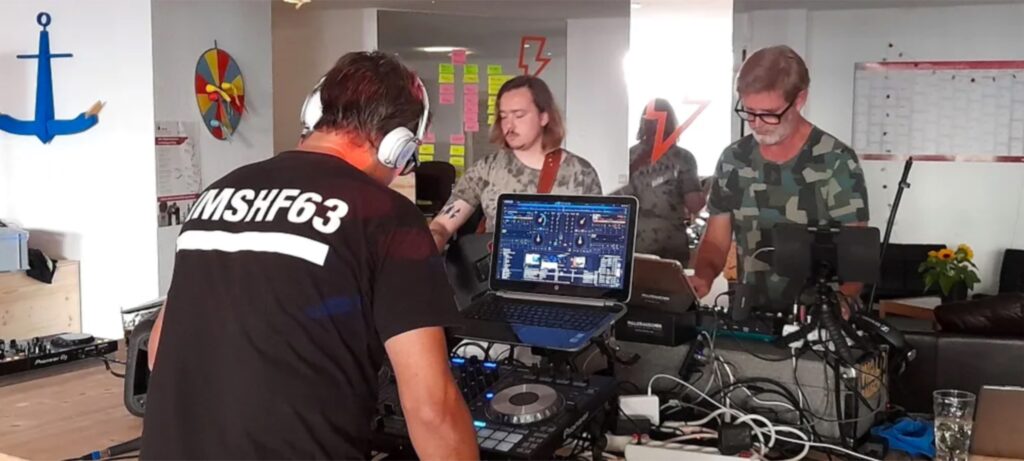 Hui, heute gibt es wieder Musik.
Kurz denken wir noch ein wenig wehmütig an die Italo-Dance-Schaufensterdisko zurück, die während der Corona-Pandemie ein wenig Stimmung völlig coronakonform in die Bismarckstraße drückte.
Und so wagen wir einen ersten vorsichtigen Schritt an die Tür und werden völlig formlos sofort begrüsst. Nix Türsteher, nix Dresscode, nix Konsumzwang…Yo! oder in diesem Fall eher !Yo, hier bleiben wir heute.
Völlig anders als gewohnt, scharen sich ein paar experimentierende Musiker und Visualisten um einen im Raum zentrierten Tisch. Es gibt keine Bühne. Sie herrschen nicht hochthronend über den Hörenden, denen sie ihre Musik an das Volk bringen wollen. Vergeblich sucht man nach CDJ3000 und Nexus 2, was das Ganze wieder erheblich sympathischer macht. Projektionen im Raum fügen das Ganze zu einem stimmigen Bild… Heute sind wir Gäste mitten drin im Geschehen.
Stopp: Wir müssen Getränke holen. Da der Nukleus weder eine Bar oder Kneipe ist, gilt hier die Selbstversorgung. Was auf den ersten Blick ein wenig ungewöhnlich wirkt, macht das Ganze dann aber auch für jeden Ludwigshafener Geldbeutel interessant. Und so drehen wir eine erste Runde durch den Billig-REWE (Bismarckstraße 71, im TWL-Gebäude) und kehren mit ein paar alkoholfreien Getränken an den Ort des Geschehens zurück.
Doch was ist das?
Zwischenzeitlich haben sich Stimmen und ein Saxophon dazugesellt. Es wird Gitarre gespielt und mit der stimmlich sanften Aufforderung von FATMA2SOUL: "Lass uns tanzen, die ganze Nacht" zieht sie die ersten Menschen in ihren bewegenden Bann. Wir starten die gemeinsame Reise von WAVR, Waldrauschens Audio Visuelle Raumerkundung.
Es ist stimmig. Der Beat verbindet sich mit den Klängen der Gitarre. Die leichten Melodien aus den DJ-Pults erzeugen eine Symbiose mit den eigentlich so gegensätzlichen kräftigen Tönen aus dem Saxophon. Und dann ist da dieser Raum des Nukleus, mitten in LU, welcher durch die visuellen Experimente von rauchenden Kaminen, wandelnde Gesichter und animierten Bewegungen das Leben heute so anzieht.
Am Experimentiertisch wechselt man sich ab. FATMA2SOUL beschreibt die Situation passend, sie (die Situation) "ist schön, schön wie eine Blume". Und wir fühlen uns wohl.
Es dauert auch nicht lange und die ersten Stühle werden vor den Nukleus gezogen. Gäste bevölkern zunehmend die freien Plätze, Diskussionen entstehen und man philosophiert über das Leben und die Stadt Ludwigshafen. Kein Stuhl bleibt frei. Und je mehr Stühle besetzt sind, desto zahlreicher werden sie aus dem Nukleus auf die Bismarckstraße geschleppt.
Ein paar Besucher ziehen kurz in die umliegenden Bars und Restaurants und kommen mit ihren ToGo-Getränken zurück. Fremde Menschen kommen miteinander ins Gespräch. Und so wandern die Gespräche über geplante Reisen, kleine kulturelle Geheimnisse unserer Stadt oder Ideen wie man diesen Ort lebenswerter gestalten könnte. Aber heute ist er das bereits.
So genießen wir einfach diesen entspannten Abend, der so ganz ohne Zwang auskommt, bei den visuellen und akustischen Experimenten des WAVR.
Und die Erkundung des Waldrauschens verschieben wir einfach auf einen anderen Tag. Wir kommen wieder versprochen.
Informationen:
Am 16.07.2022 fand ab 16:00 Ihr in den Räumen des Nukleus eine von Waldrauschen präsentierte Zusammenkunft Ludwigshafener DJ und deren Freunden statt. Bei diesen Zusammenkünften handelt es es sich um lockere Treffen von DJs, VJs und Musikern, die in lockerer Atmosphäre einen entspannten Abend verbringen wollen und dazu auch Gäste daran teilhaben lassen möchten.
An diesem Abend waren im Nukleus:
to66l & !YO Live [WALDRAUSCHEN]
Luke Tavy [Ultimate Beats Records]
Baumann and the Drones [Hmnd SnB Ensemble]
Fatma Tazegül [FATMA2SOUL]
Stefan Schroen
Gunnar Keppler aka Düsterleuchten [Live Visuals]
Alle Veranstaltungen und Neuigkeiten zu den Waldrauschen-Veranstaltungen findet ihr unter:
Internet: https://waldrauschen.com/
Facebook: https://www.facebook.com/waldrauschenmusic
Am Saxophon entdeckt haben wir die Künstlerin Silke Wolff, mit der wir wieder ein sehr angenehmes Gespräch führen durften.